There is a better way
Lisa Brown will get Spokane moving forward again
Priorities
Increasing neighborhood safety
Most people feel less safe today than they did a few years ago.
Violent crime is up
, and
police responded to less than half of all service calls in 2022.
Lisa will work for a well-trained, accountable and fully-staffed police department and upstream investments in mental health and substance abuse treatment. She will work with law enforcement and communities of color to reform and rebuild trust in the justice system.
Learn more about Lisa's Public Safety commitments here.
See Lisa's Public Safety Record here
.
A vibrant, thriving Spokane economy
Lisa is a proven leader in economic development. She helped start the WSU medical school and supported Spokane area companies and small businesses as the Washington State Director of Commerce. She will work with business, labor and higher education leaders to create more opportunities for people in Spokane to get apprenticeships, good jobs and grow successful businesses.
Increase housing supply and home ownership
Dramatically rising rents and housing prices are squeezing many people out of their homes, especially those who have been historically left out of homeownership opportunities.
Under the current Mayor, the city has left millions of state and federal dollars on the table
that could have gone to building affordable housing. Partnering with nonprofits and private developers to create more housing, especially affordable and middle-income will be a top priority of Lisa's administration.
Leading a coordinated effective response to homelessness
The number of people counted as living on the streets or in shelters in our county has risen 50% in the last four years.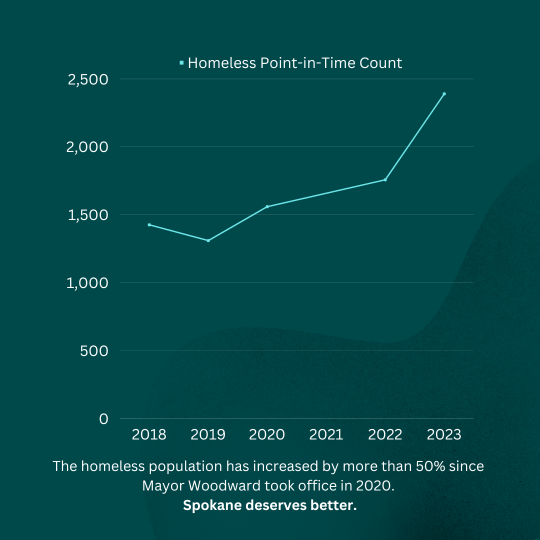 Lisa will work to build a regional coalition to expand emergency street medicine response teams, drug treatment and recovery programs, housing solutions and employment services that will break the cycle of homelessness. Neighborhoods and businesses deserve a transparent and fair process for locating new homeless facilities.
A balanced city budget and functional city hall
The Woodward administration has been notable for the level of conflict and staff turnover. The Mayor vetoed a budget accountability measure and has depleted city reserves. Lisa's experienced leadership and knowledge of state and federal elected leaders and programs will benefit Spokane families and get our city moving forward again.